Sudan's security forces have fired tear gas at demonstrators in Khartoum in an attempt to disperse large crowds of protesters demanding an end to military rule by General Abdel Fattah al-Burhan.
Hundreds of protesters took to the streets in Khartoum on Sunday to voice their opposition against the October military coup, and to highlight heavy fighting in Sudan's southern Blue Nile province, located about 450 kilometers (280 miles) south of the capital city.
Demonstrators in Khartoum held placards noting the recent bloodshed in ethnic clashes in Sudan's southeastern region, with one sign reading "Al-Damazin is bleeding," referring to the state capital of Blue Nile.
Security forces set up roadblocks on bridges crossing the Nile River linking Khartoum to its suburbs, to deter protesters who had vowed to take to the streets in large numbers, AFP reporters said.
The fresh mass rally came after at least 31 people died and 39 more were injured in fighting between ethnic Hausa and Birta groups in Sudan's Blue Nile province on Friday.
The fighting, which was triggered by the killing of a farmer earlier this week, continued on Saturday afternoon, despite a nightly curfew, an increase in troop numbers, and the deployment of Rapid Support Forces.
According to Sudan's Health Ministry, troops were deployed in the Blue Nile town of al-Roseires on Sunday, after dozens of people were killed and injured in the southeastern region.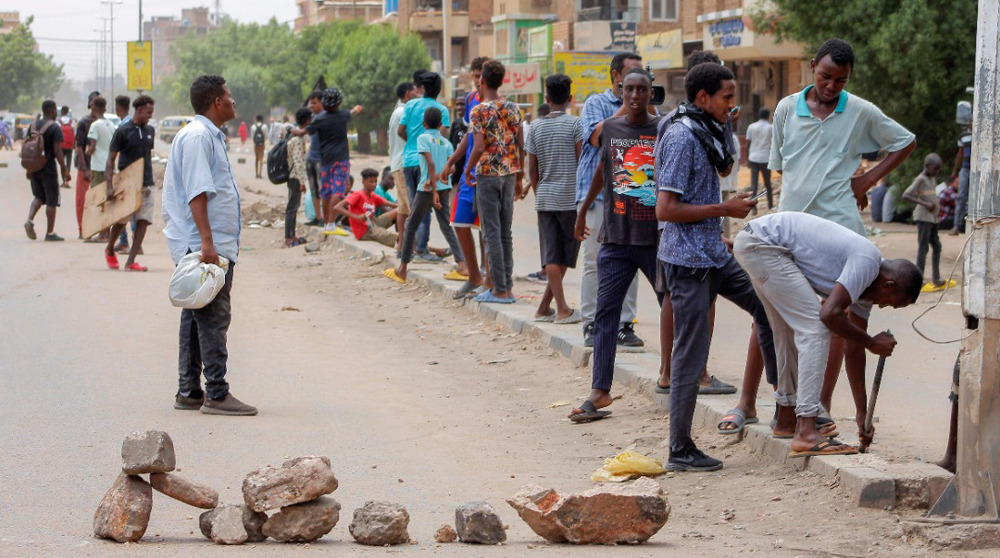 The Sudanese military, led by al-Burhan, seized power in October 2021, after detaining Prime Minister Abdalla Hamdok and other civilian leaders and dissolving the year-old transitional government as well as the joint ruling military-civilian sovereign council formed after the 2019 ouster of longtime ruler Omar al-Bashir.
Back then, al-Burhan declared a state of emergency and vowed to form what he called a competent government. The move drew anger and outrage across the North African country and sparked international condemnation, including from the United Nations Security Council.
The country has been rocked by protests ever since, leaving scores of people dead and hundreds more injured. Hundreds of activists have also been arrested in the clampdown under emergency laws.
Sudan, one of the world's poorest countries, has been reeling from a plunging economy due to decades of international isolation and mismanagement.