Ukrainian officials say they will do "everything" to defend Donbas to prevent the eastern area from being surrounded by Russian forces.  
Russia's President Vladimir Putin announced a military operation in February in order to "demilitarize" the Donetsk and Luhansk regions in eastern Ukraine, which together form the Donbas. In 2014, the two regions declared themselves new republics, refusing to recognize Ukraine's Western-backed government.
Ukraine's President Volodymyr Zelensky said the Russians had "concentrated maximum artillery, maximum reserves in Donbas".
"There are missile strikes and aircraft attacks - everything," Zelensky said in his daily address to Ukrainians.
"We are protecting our land in the way that our current defense resources allow," he added. "We are doing everything to increase them."
Ukrainian officials also said that Russian troops' advances could oblige regional forces to retreat from parts of the east. The withdrawal could bring President Vladimir Putin closer to his preliminary goal of capturing Luhansk and Donetsk regions in full.
Luhansk's governor, Serhiy Gaidai, said that Russian troops had entered Sievierodonetsk, the largest Donbas city still held by Ukraine, after trying to trap Ukrainian forces there for days.
"The Russians will not be able to capture Luhansk region in the coming days as analysts have predicted," Gaidai said on Telegram, referring to the area including Sievierodonetsk and its twin city of Lysychansk, across the Siverskiy Donets River.
"We will have enough strength and resources to defend ourselves. However, it is possible that in order not to be surrounded we will have to retreat."
Regional pro-Russian separatists said they controlled Lyman, a railway hub west of Sievierodonetsk. Ukraine said Russia had captured most of Lyman but that its forces were blocking an advance to Sloviansk, to the southwest.
"If the occupiers think that Lyman and Sievierodonetsk will be theirs, they are wrong. Donbas will be Ukrainian," Zelensky said.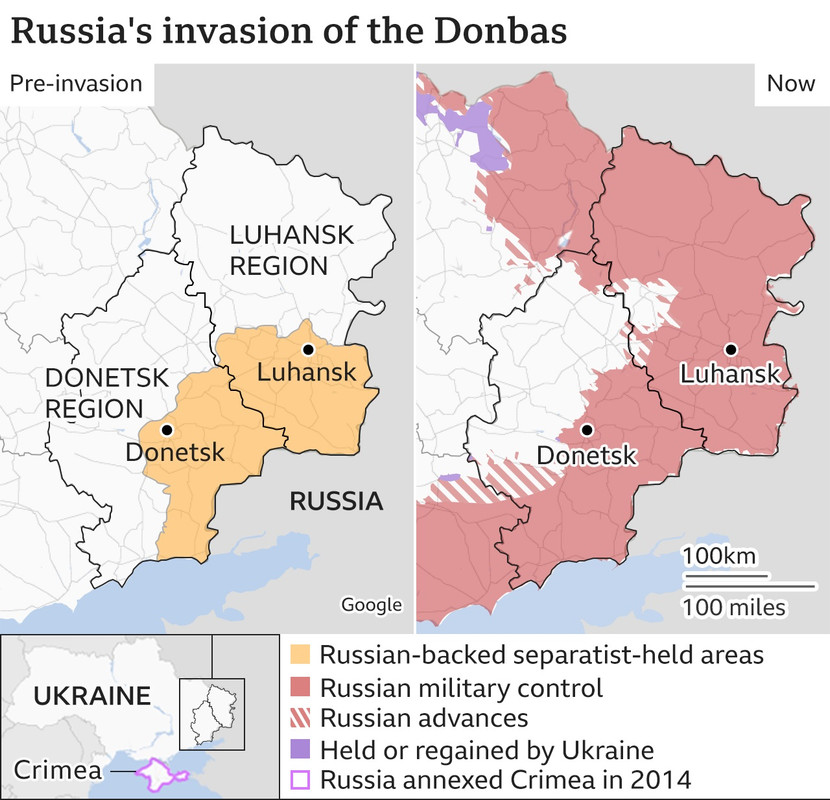 There are some 10,000 Russian troops in the eastern Ukraine, the governor of Ukraine's Luhansk region, Serhiy Gaidai, said Saturday. 
"These are the (units) that are permanently in Luhansk region, that are trying to assault and are attempting to make gains in any direction they can," Gaidai said on Ukrainian television.
The majority of people in Donbas region are Russian speakers with a proud Russian culture and they don't want to be a part of Ukraine.
In recent days, Zelensky has strongly criticized Western countries for not providing enough support for Ukraine. 
Battles rage on the 25th anniversary of a crucial agreement between the NATO military alliance and Russia that helped ease East-West tensions after the Cold War.
The NATO-Russia Founding Act, signed on May 27, 1997, long ensured cooperation between the military alliance and Moscow. But the two sides are edging closer to a direct confrontation. 
Several US and European defense sources say NATO troops are even active in Ukraine to back the Ukrainian army in its battle against Russia's military. 
Despite these efforts, the prime minister of NATO member Britain, Boris Johnson, acknowledged that Putin is making progress in the eastern Donbas region, Ukraine's industrial heartland.
"I'm afraid that Putin, at great cost to himself and to the Russian military, is continuing to chew through ground in Donbas," he told Bloomberg television.
"He's continuing to make gradual, slow, but I'm afraid palpable, progress, and therefore, it is absolutely vital that we continue to support the Ukrainians militarily," Johnson added.