By Syed Zafar Mehdi
A veteran Palestinian journalist, Shireen Abu Akleh, was murdered in cold blood early on Wednesday while covering an Israeli military raid in the occupied West Bank city of Jenin. 
To get this straight, without beating around the bush and without resorting to distortion of facts, Abu Akleh wasn't killed. She was murdered. She was shot in the face despite sporting a vest with 'press' written in capital letters on it. It was a premeditated murder.
It certainly was not a case of mistaken identity either. One can clearly tell the difference between an unarmed journalist and an armed fighter, between a camera and a Kalashnikov.
Abu Akleh was not carrying arms or explosives that would potentially unnerve her killers. She was busy doing her job, which was to report the truth and unmask the tyrants, usurpers, and aggressors.
The long-time Al Jazeera Arabic journalist, who shot to fame while covering the second Intifada between 2000 and 2005, was along with a group of local journalists reporting on an Israeli raid when the trigger-happy raiders went berserk. They clearly knew their target.
It was a cowardly murder, a dastardly crime, and abhorrent abuse of power. It won't be an exaggeration to say the 51-year-old reporter was mowed down for exposing the apartheid regime's horrendous crimes in the occupied territories for the past 25 years.
She has been rightly hailed as the voice of Palestinians in their longstanding struggle for the liberation of their occupied lands and homes and the freedom of their loved ones languishing in the dark dungeons.
Quite brazenly but unsurprisingly, the Western military-industrial-media complex can't see this broad daylight transgression the way it is. They are busy putting a spin on it to absolve the child-murdering regime in Tel Aviv of its horrendous crimes despite growing outrage across the world.
The New York Times, which claims to be a champion of free speech, in an obnoxious editorial decision tried hard to trivialize the magnitude of the tragedy. "Shireen Abu Akleh, Palestinian journalist, dies, aged 51," beamed the newspaper headline on Wednesday.
As if the slain journalist had passed away peacefully in her sleep. As if no one murdered her in cold blood. As if nothing happened.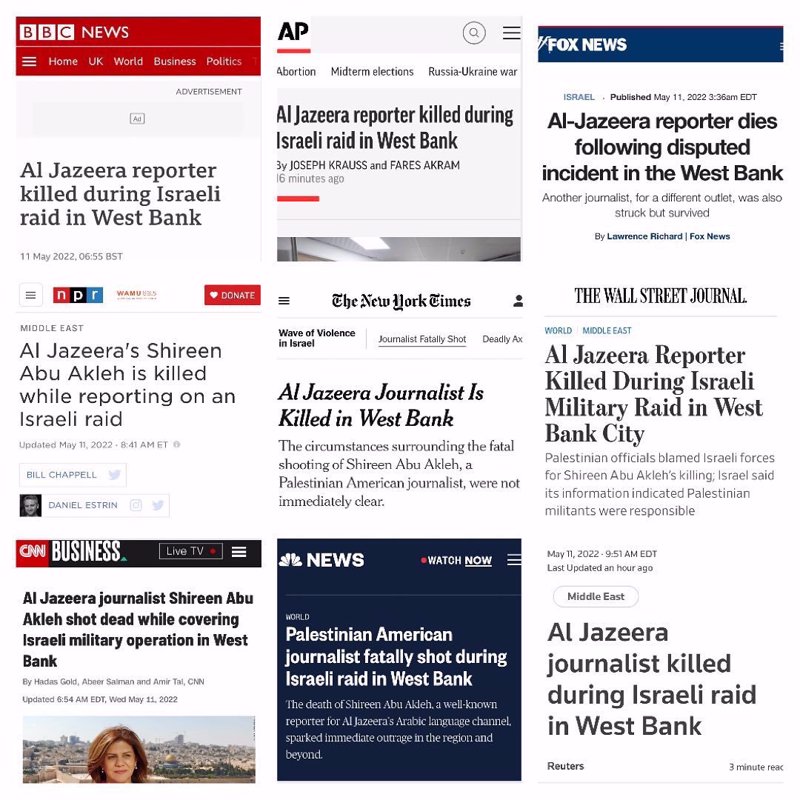 Associated Press said the Palestinian journalist was "killed by gunfire", without specifying the origin of the fire. The headline seemed to suggest that it was a stray bullet that smashed Abu Akleh's face while she was accidentally trapped in the crossfire. Nothing can be far from the truth.
Western media, through these misleading headlines and distorted reportage, has once again exhibited its hard-to-miss pro-Israel tilt, as if competing for the attention of murder masterminds in Tel Aviv.
In an attempt to give clean chit to killers, big media flashed headlines such as Abu Akleh was "killed during Israeli raid in West Bank" (BBC), "killed while reporting on an Israeli raid" (NPT), "killed while covering an Israeli military operation" (CNN). No one said "who" killed her and "why".
The problem here is when reporting on Israeli war crimes in the occupied Palestinian territories, western media assumes that "balance" means giving equal weight to both sides, without realizing one is an oppressor and the other an oppressed. There can be no match.
These headlines are classic examples of media misrepresentation, obfuscation, spin-doctoring, and bizarre distortion of facts to fit a particular narrative — in this case, the narrative peddled by Zionists and their apologists. Far from accepting responsibility, they have been hell-bent on pushing the blame on poor, hapless victims.
The UK-based newspaper Guardian said Israel has been "accused" of murdering the Al Jazeera journalist while parroting the regime's baseless claim that the journalist "may have been hit by Palestinian fire".
Some like right-leaning Fox News went a step further, saying the Al Jazeera journalist "died following disputed incident in the West Bank", not too different from the version pushed by New York Times.
There was no "dispute", no "clashes" and no one actually "died". It was a brutal, diabolic murder of a Palestinian journalist by Israeli regime forces.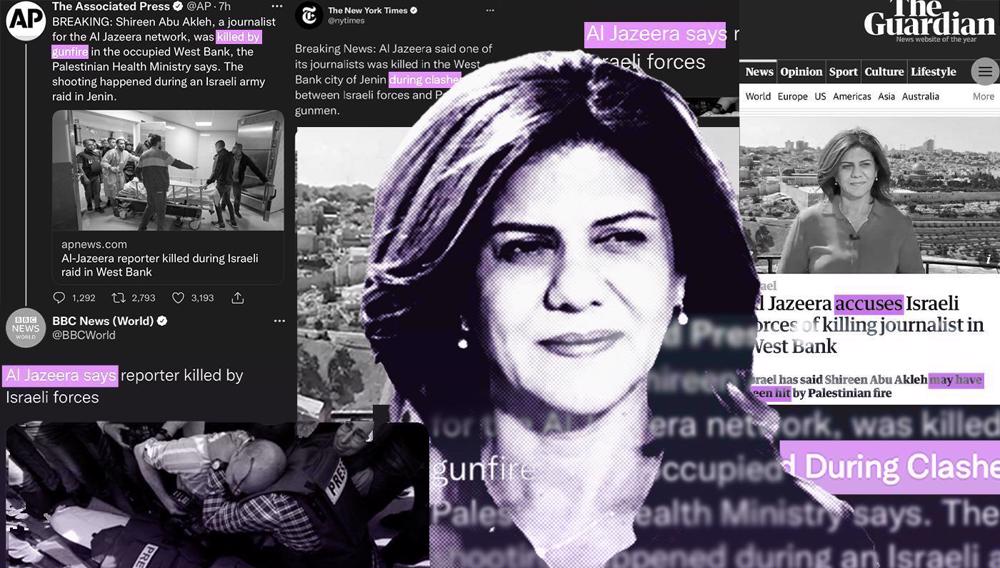 Abu Akleh's murder is not an isolated case though. According to the Palestinian Journalists Syndicate (PJS), a body formed by journalists based in Jerusalem, at least 46 journalists have been killed since 2000 by occupying forces, and absolutely no one has been held to account.
Reporters Without Borders says at least 144 Palestinian journalists have been wounded by Israeli forces in Gaza, West Bank, and Al-Quds since 2018.
Never has the Western media acknowledged Israel's war crimes in the occupied territories, let alone condemn them, even when journalists have been at the receiving end.
On the contrary, it has sought to portray Palestinians as aggressors, misreporting Israel's naked aggression in Gaza as "clashes" or "flare-ups of violence". The lives of Palestinians don't matter to Western journalists, including Palestinian journalists who brave enormous risks to report the truth.
When Israeli airstrikes destroyed a media tower in the besieged Gaza Strip in May 2021, there was a deafening silence from Western media. In April 2022, the PJS and other media bodies filed a formal complaint with the International Criminal Court against Israel's "systematic targeting" of journalists.
Interestingly the blatant double standards on the Palestinian issue are also exemplified by style guides used in big Western media organizations, which essentially prohibit the use of the word 'Palestine'.
For example, the 55th edition of the AP stylebook, which is used widely in the West, states that words such as 'Palestine' and 'Palestinians' should be used "in the context of Palestine's activities in international bodies to which it has been admitted" but words such as 'Palestine or state of Palestine' not be used in other situations, "since it is not a fully independent, unified state."
This deliberate attempt by editors to apply style-guide rules for "neutral" coverage, without considering nuances of the issue, is an utter disservice to both journalism and media practitioners in Palestine.
It's time to call out the blatant hypocrisy of Western media because Abu Akleh isn't the first one and most probably won't be the last one.
 
Syed Zafar Mehdi is a Tehran-based journalist, editor, political commentator, and author. He has reported for more than 12 years from Afghanistan, India, Pakistan, Kashmir, and Iran for leading publications worldwide. He tweets at @mehdizafar
(The views expressed in this article do not necessarily reflect those of Press TV.)