Prime Minister Mahinda Rajapaksa has resigned, following a series of violent confrontations between his supporters and anti-government protesters that saw five people killed and 189 wounded.
Rohan Weliwita, Rajapaksa's spokesman, said on Monday the 76-year-old sent his letter of resignation to his younger brother President Gotabaya Rajapaksa, clearing the way for a "new unity government."
"I am resigning with immediate effect so that you will be able to appoint an all-party government to guide the country out of the current economic crisis."
The resignation of the prime minister automatically means the cabinet stands dissolved.
Monday saw the biggest of clashes since crisis erupted in the capital Colombo a few months ago. Violence began after several thousand supporters of the prime minister, brought in buses from rural areas, poured out of his nearby official residence.  
Scores of Rajapaksa loyalists attacked unarmed protesters who have been camping outside the president's office in downtown Colombo since April 9. They also torched anti-government banners and placards.
Lawmaker Amarakeerthi Athukorala from the ruling party shot two people -- killing a 27-year-old man -- and then took his own life after being surrounded by a mob of anti-government protesters outside Colombo, police said.
And another ruling-party politician who was not named opened fire on anti-government protesters in the southern town of Weeraketiya, killing two and wounding five, according to police.
Police fired tear gas and declared an immediate curfew in Colombo, which was later widened to include the entire country.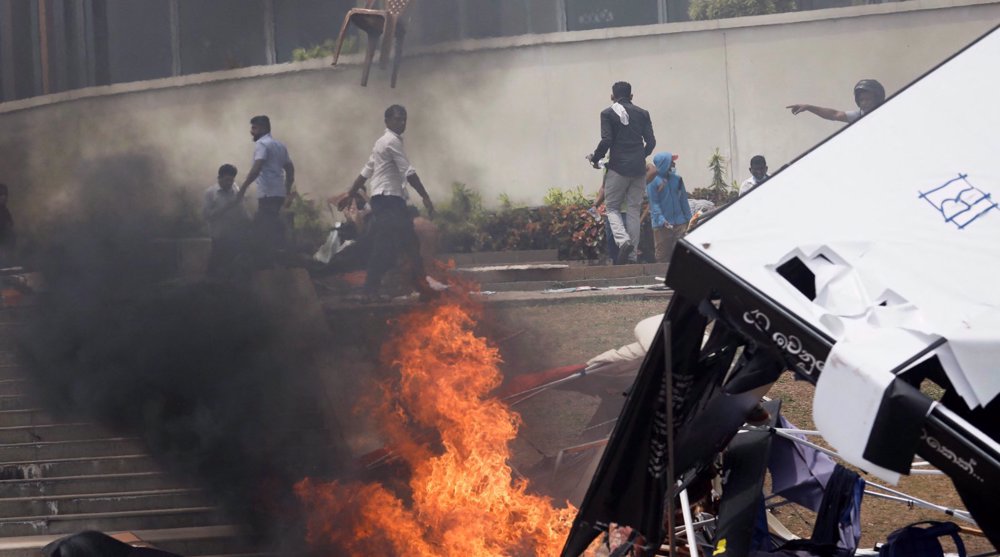 On April 19, police shot dead one protester and wounded 24 others.
The government recently imposed a state of emergency, granting the military sweeping powers to detain people.
In a statement released on Sunday, the defense ministry said anti-government demonstrators were behaving in a "provocative and threatening manner" and disrupting essential services.
People are angry over the worsening economic crisis they believe the government is mishandling. Critics say the roots of the crisis, the worst in several decades, lie in economic mismanagement by successive governments that amassed huge budget shortfalls and a current account deficit.
The crisis was deepened by severe tax cuts Rajapaksa promised during the 2019 election campaign and enacted months before the COVID-19 pandemic, which wiped out parts of Sri Lanka's economy.
The country has suffered months of blackouts and dire shortages of food, fuel and medicines since independence in 1948. In April, the country announced it was defaulting on its $51-billion foreign debt.