Britain's Guardian newspaper on Sunday published a picture of Prime Minister Boris Johnson alongside his wife and up to 17 staff partying in the Downing Street garden during lockdown in May 2020.
The photograph shows Johnson with his wife Carrie, who appears to be holding their newborn son, and two other people at a table on a terrace in the Downing Street garden with cheese and wine.
There is another table of four other people nearby, and a short distance away there is a larger group standing on the grass around a table with bottles of wine.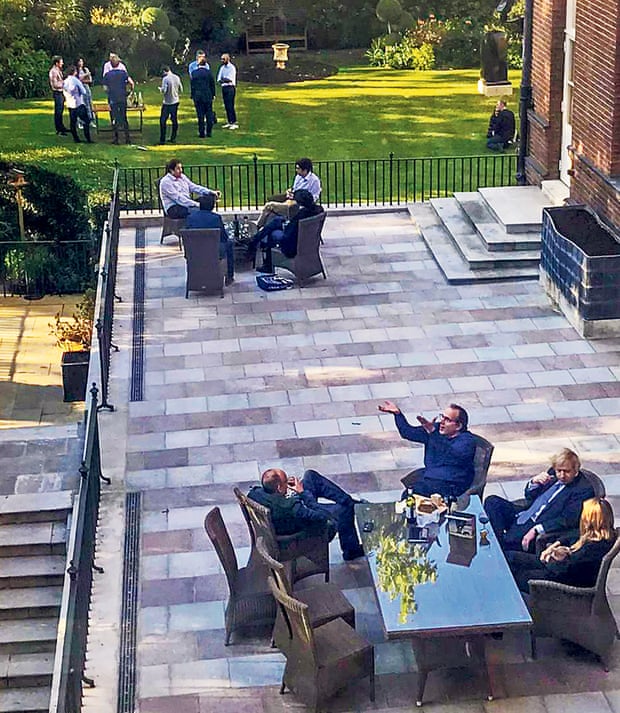 There has been a slew of media stories in recent weeks over alleged Christmas parties in government offices, including Johnson's own, last year in breach of COVID-19 lockdowns.
The reports have angered voters who were told by the government to sacrifice their own Christmas events last year.
Asked about the picture, a Downing Street spokesperson said, "Work meetings often take place in the Downing Street garden in the summer months. On this occasion there were staff meetings following a No. 10 press conference."
"Downing Street is the Prime Minister's home as well as his workplace. The Prime Minister's wife lives in No. 10 and therefore also legitimately uses the garden."
Also, Johnson's deputy said on Monday that the photo does not show a party.
"Downing Street use that garden as a place of work," Deputy Prime Minister Dominic Raab told Times Radio. "That's not against the regulations."
"I genuinely don't think it gets classified as a party," Raab said. "I don't think it was a party."
The photo, however, raises questions over the government's assertion given what can be seen - bottles of wine and a lack of social distancing and 19 people gathering in groups across the Downing Street terrace and lawn.
The Guardian said it received the photograph following Johnson's office's denial last week that there was a party on Friday 15 May 2020, insisting Downing Street staff were working in the garden in the afternoon and evening.
On that day, then health secretary Matt Hancock, during a press conference, urged people to stick to the rules and avoid socializing in groups, it reported.