An Emirati company specializing in renewable energy has signed an initial agreement to install 300 megawatts (MW) of power capacity in Khuzestan province in southwest Iran, a report says.   
Under an MoU signed between Managing Director of Khuzestan Regional Electric Co. Mahmoud Dasht-Bozorg and AJ Holding CEO Allan Jespersen, the Dubai-based company has undertaken to build gas-fired thermal, solar and wind power plants in the hydrocarbon-rich province.
"The memorandum states that the maximum capacity of the power plants to be built at any point should not exceed 25 MW," Bargh News, a news outlet dedicated to Iran's electric power industry, reported.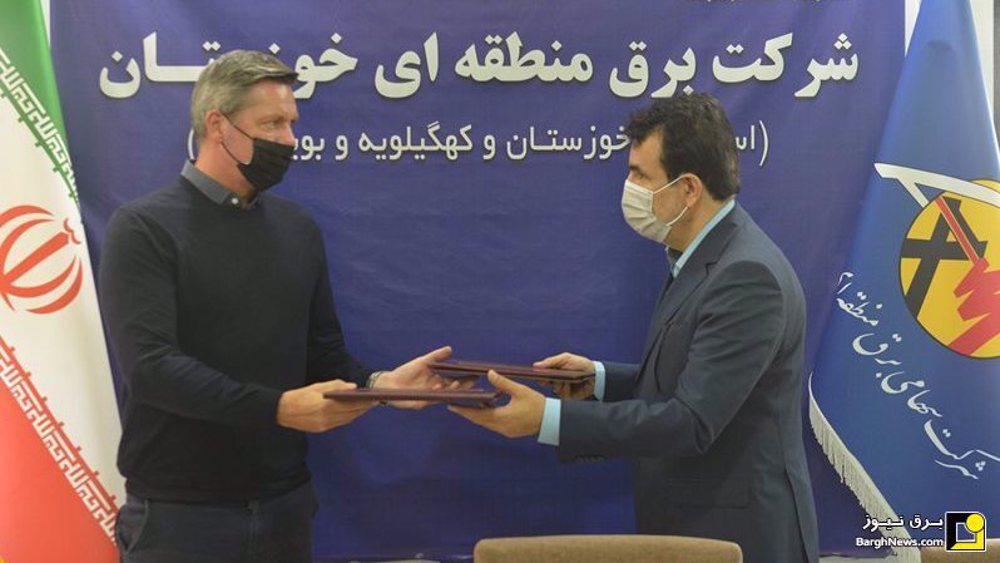 It requires the UAE company to execute the project in the "shortest possible time", where some of the plants should join the grid before the summer, it added.
According to Bargh News, Khuzestan Regional Electric Co. has already signed an agreement with a private Iranian company to establish 150 MW of capacity in the province.
On Wednesday, the news outlet cited Managing Director of Sistan and Baluchestan Regional Electric Co. as saying that Iran's largest solar plant is being built in the southeastern province.
The 25 MW plant will be built on a 50-hectare plot of land with $20 million of investment in Dalgan which has more than 300 days of sunshine a year, he said.
Its construction will begin within the next month and become operational after six months, he added.
"Currently, the largest renewable power plant in Iran has a production capacity of 10 MW, and Dalgan power plant with a production capacity of 25 MW will become the largest solar power plant in the country."
Iran has about 900 MW of installed renewable capacity, of which 310 MW is wind and 390 MW solar.
Before former US president Donald Trump reimposed sanctions on Iran in May 2018, the Islamic Republic expected its installed renewable capacity to grow at least sevenfold over the next five years.  
However, European companies such as Norway's Saga Energy, British firm Quercus, Dutch energy firm Global Renewables Investments (GRI) cancelled their plans to build renewable capacities worth several billions dollars in Iran.
Saga scrapped a $2.9 billion deal to install 2,380 megawatts (MW) in renewable capacity in the oil-producing country. Quercus had signed a deal to help build the world's sixth-largest solar farm in central Iran, investing over half a billion euros. GRI planned to build up solar and wind farms that could produce up to 1,700 MW of electricity.
Iran's ambition is to install 5,000 MW of renewables by 2022, according to officials. The country is a signatory of the 2015 Paris climate agreement committing 195 nations to limit their carbon emissions.
It accounted for 57 percent of the Middle East's total in 2019 and 63 percent in 2018, according to the International Renewable Energy Agency (IRENA).
Scientific studies suggest that Iran can increase electricity generation from the renewables to up to 80,000 MW, of which around 80 percent can come from the solar energy.
Increase in renewable capacity can also allow Iran to free up a significant amount of natural gas burnt in thermal power plants and feed it to export pipelines.
In July, the country was hit by a series of power outages, which critics blamed much of it on the former government's underperformance in establishing new power plants to keep up with runaway demand.
Heavy industries such as steel and cement bore much of the brunt after being told to cut power consumption to 10 percent of their normal operation.
It prompted the Ministry of Mine, Trade and Industry and the industrial sector to put an official request with the Ministry of Energy for investment in thermal power plants.
Last week, head of the Renewable Energy and Energy Efficiency Organization Mahmoud Torkamani said 70 companies, including 10 foreign firms, had registered following a call by the Iranian government for the construction of renewable power plants.
Iran has also to build 5,000 megawatts of coal-fired power capacity in the coming years due to limitations of gas supplies to power plants in cold seasons and the need to diversify the fuel basket of thermal power generation units, a senior energy official said last month.
"According to the Supreme Energy Council's regulations, we should reconsider our fuel management by 1420 and diversify the country's energy basket, under which 5,000 megawatts of coal-fired power plants should be built," head of the Thermal Power Plants Holding Company Mohsen Tarztalab said.