Belarus' President Alexander Lukashenko has accused Poland of blackmailing his country by sending armored vehicles and troops to the border amid an escalation of a migration crisis.
Poland has closed its border with Belarus as hundreds of migrants, trying to cross into the European Union, are stranded in freezing temperatures on the border between the two countries.
Reports said Poland planned to send Leopard tanks to the town of Biala Podlaska on the border with Belarus.
Lukashenko warned Warsaw against the deployment, saying, "It's obvious that this is either some sort of training or blackmail."
"Pardon me but fighting against migrants with Leopards?" he told Russia's National Defense magazine on Tuesday. "We are well versed militarily and understand what it means today to wage war with these poor people on Poland's border with, say, Belarus, and to advance columns of tanks."
The president also warned against the military movements "in the heart of Europe and even more so [in a conflict] with Belarus. saying that, "In today's world, taking up arms is tantamount to death or suicide."
The West accuses Belarus of coordinating an unprecedented wave of asylum seekers in retaliation for existing sanctions imposed by the bloc on his country. Lukashenko has denied the allegations.
Poland's Deputy Interior Minister Blazej Pobozy said in a tweet on Tuesday that Warsaw was "sending to that place expanded detachments of troops from the border guards and the police and soldiers."
"Their number as of now totals about 20,000," he said.
Observers warn that Poland's deployment could trigger a confrontation on their common border.
Polish border guards beat migrants: Belarus
The Belarusian border guard service said in a statement on Wednesday that Polish guards were beating migrants at their shared border.
"Judging by the numerous injuries on the bodies of the migrants, the Polish security forces mistreated the people and, using force, pushed them out behind a barbed-wire fence on the border with Belarus," the statement said.
"According to the refugees, they were detained on the territory of Poland where they had tried to ask for protection and refugee status," it added.
The border guards also shared images showing four ethnic Kurds with bloody clothes and one with cuts on his hands. They said the men had been given medical assistance.
Polish border guards say about 800 migrants are staying in a makeshift camp near the border crossing post of Kuznitsa. Another 3,000 to 4,000 people are also staying in the forested areas along the entire length of the Polish-Belarusian border.
A total of 12,000-14,000 migrants may be staying in Belarus, according to Warsaw.
Meanwhile, Germany has urged EU member states to "stand together" to support Poland in securing the border.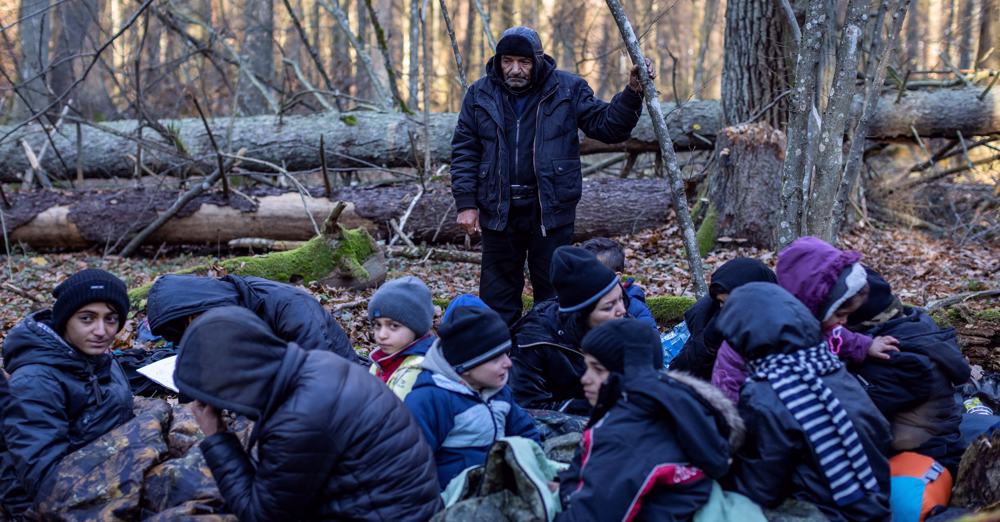 Germany's outgoing interior minister, Horst Seehofer, accused Lukashenko of "using people's fates with the support of Russian President Vladimir Putin to destabilize the West."
Seehofer's deputy, Stephan Mayer, also said that Berlin "could send police very promptly to support Poland if Poland wants that."
Lukashenko has said previously that he would not hesitate to invite Russian troops to the country in the event of an extraordinary foreign threat.
Belarus shares a border with Ukraine in the south. It also borders Poland and Lithuania in the west, Latvia in the north, and Russia in the east.