Tens of thousands of protesters gathered in Glasgow, Scotland, and around the world on Saturday to demand bolder action at the UN climate conference.
Students, activists and climate-concerned citizens marched through the streets of the Scottish city, host of the COP26 meeting that began on Monday.
"It's kind of a cornucopia of different groups," NPR's Frank Langfitt reported from Glasgow. "You have farmers, trade unionists, climate activists, even Scottish independence advocates. A wide-ranging coalition of people coming together for what they consider a common cause."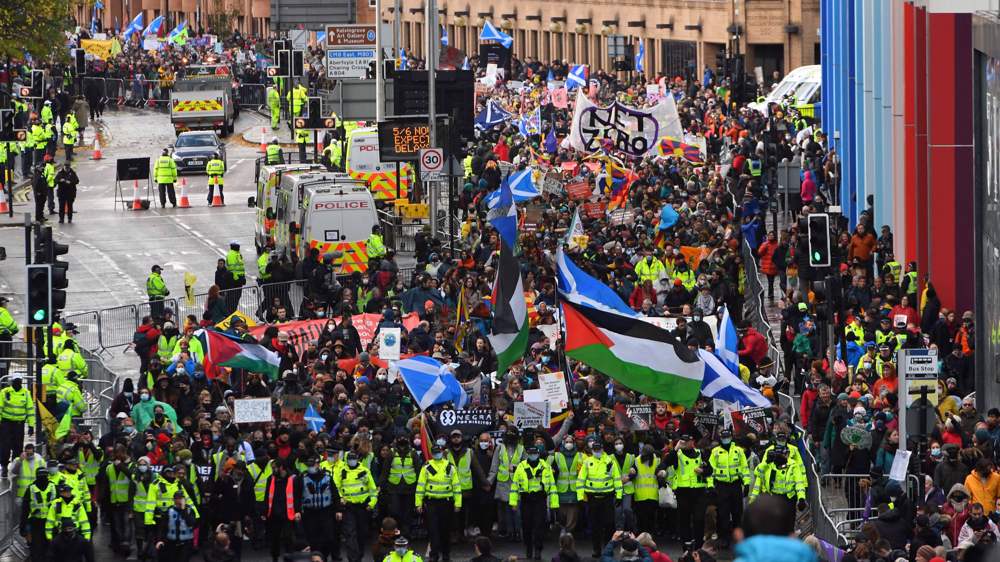 Among those demanding change were Indigenous activists and young people from Brazil and Ecuador.
Ugandan activist Vanessa Nakate told protesters, "The climate and ecological crises are already here. But so are citizens from around the globe.
"Leaders rarely have the courage to lead. It takes citizens, people like you and me, to rise up and demand action. And when we do that in great enough numbers, our leaders will move."
The protest was the biggest so far during the COP26 summit. Police arrested 21 scientists who chained themselves together and blocked a road bridge over the River Clyde.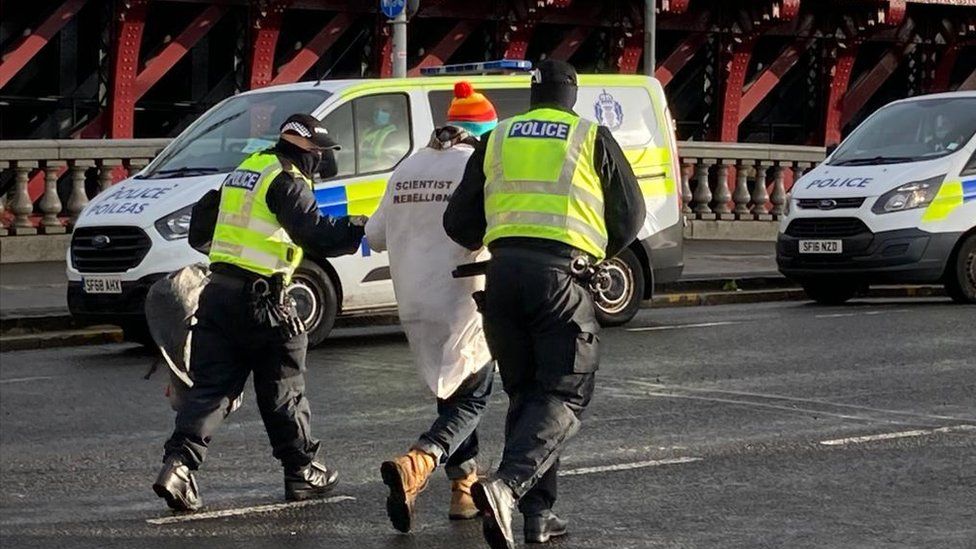 Scientists could not "rely on our leaders to save us anymore" and had a "moral duty to act," said Charlie Gardner, an associate senior lecturer at Durell Institute of Conservation and Ecology.
He tweeted, "Over 15,000 scientists declared that we're in a climate emergency, but most aren't acting as if it's an emergency.
"We're taking this action to encourage others, scientists and all people, to rise up in rebellion against the system that is killing everything."
Nearly 100 demonstrations were also held in other parts of the UK. Events were also taking place in other countries including Kenya, Turkey, France, Brazil, Australia and Canada.
In London, protesters walked from the Bank of England to Trafalgar Square while another large demonstration took place in Cardiff.
Since the climate talks began, national delegations have been trying to agree on technical details for the final pact, which is slated to be announced at the end of the conference after more talks this week.
During the first week, countries pledged to phase out coal, slash emissions of the potent greenhouse gas methane and reduce deforestation.
However, activists have demanded that the meeting make more progress.
"The climate crisis is about the survival of humanity as we know it," said Philipp Chmel, who traveled from Germany for the march. "It's up to the youth and the workers, the working class, to bring about the change that is necessary."