Hundreds of people have staged a mass demonstration in Syria's northwestern province of Aleppo to denounce the presence of Turkish occupation forces in the conflict-plagued Arab country and demand their complete withdrawal from the Syrian soil.
Syria's official news agency SANA reported that residents of Kafr Naya town, located north of Aleppo, expressed strong resentment over deployment of Turkish troops and their allied Takfiri militants to their area during a rally on Monday afternoon.
The participants waved national Syrian flags and condemned Turkish soldiers and their allies over attacks against residential buildings and civilian infrastructure.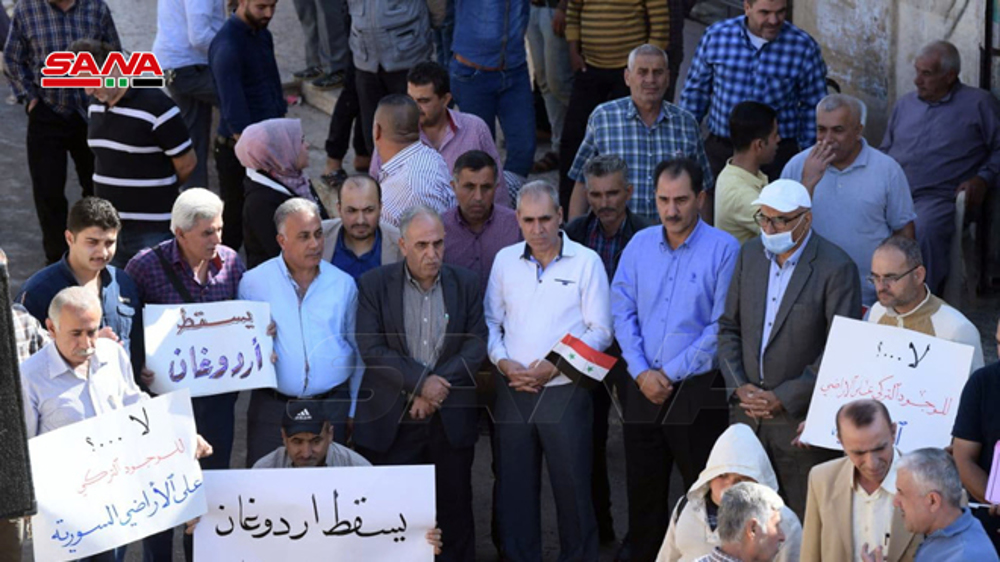 They underscored respect for Syria's territorial integrity, stressing the need to confront attempts aimed at occupation and disintegration of Syrian territories.
The demonstrators said they are fairly confident about Syrian government forces' determination to stand up to any act of aggression, and their heroism to liberate every inch of the occupied Syrian soil.
"The residents of Kafr Naya town and neighboring villages have gathered here to demand expulsion of Turkish occupation forces, who have killed and displaced many people and looted their properties," SANA quoted protester Abdullah al-Atrash as saying.
"The mass gathering is to reiterate the fact that only Syrian people can decide the fate of their country. We will stand by heroes of the Syrian Arab Army to confront any possible act of aggression by Turkish forces," Bayraktar Rashid, another demonstrator, said.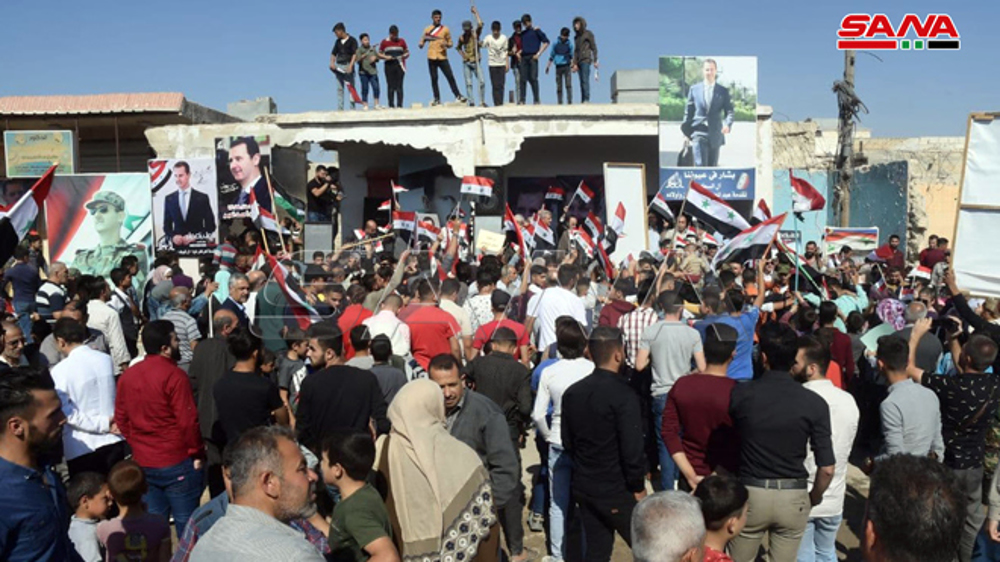 Last Friday, residents of Tel Rifaat city, located roughly 40 kilometers (25 miles) north of Aleppo, waved Syrian flags and held up signs calling for the removal of Turkish troops and their allied Takfiri militants.
Turkey has deployed forces in Syria in violation of the Arab country's territorial integrity. 
Ankara-backed militants were deployed to northeastern Syria in October 2019 after Turkish military forces launched a long-threatened cross-border invasion in a declared attempt to push fighters of the Kurdish People's Protection Units (YPG) away from border areas.
Ankara views the US-backed YPG as a terrorist organization tied to the homegrown Kurdistan Workers' Party (PKK), which has been seeking an autonomous Kurdish region in Turkey since 1984.
Turkey has played a major role in supporting terrorists in Syria ever since a major foreign-backed insurgency overtook the country more than ten years ago.
Syrian President Bashar al-Assad and other senior officials have said the Damascus government will respond through all legitimate means available to the ongoing ground offensive by Turkish forces and allied Takfiri militants in the northern part of the war-battered Arab country.