More than a dozen people have lost their lives and several others sustained injuries when two roadside bombs exploded near a bus carrying military personnel in the Syrian capital city of Damascus.
The state-run al-Ikhbariyah Syria television news network reported that 14 people were killed in the explosions that happened when the bus was close to the Hafez al-Assad Bridge on Wednesday morning.
It showed images of the charred cabin of the bus and rescue workers could be seen removing body parts.
The news channel said the blasts occurred during rush hour when people were heading to work and school.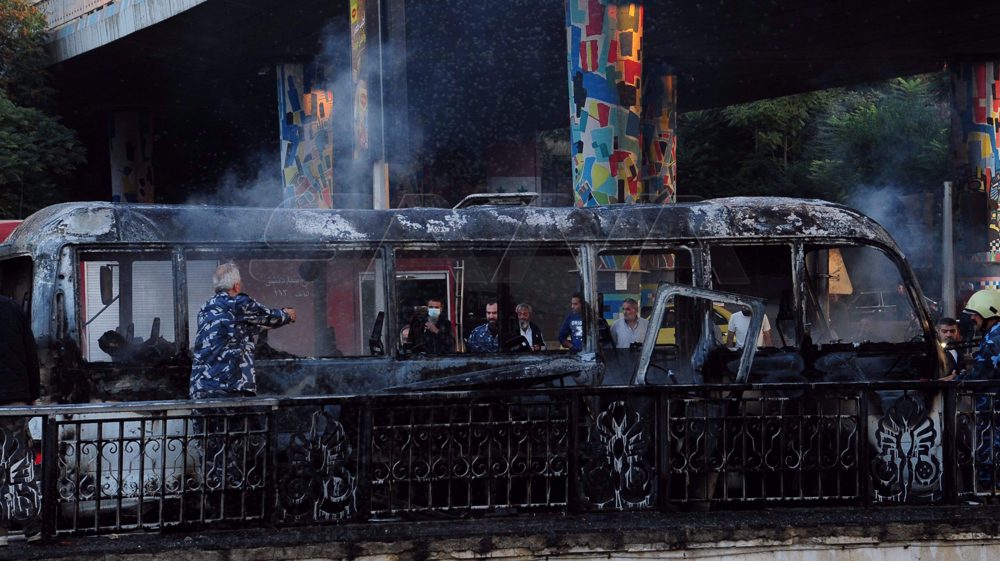 It said a third device was defused by an army engineering unit.
A military source, speaking on condition of anonymity, told Syria's official news agency SANA that the terrorist roadside bomb attack occurred at around 6:45 a.m. local time (0345 GMT).
He added that the bus was targeted by two explosive devices attached to it.
There was no immediate claim of responsibility for the deadly attack in central Damascus yet.
Syrian Interior Minister Mohammad Khaled al-Rahmoun later condemned the attack, and said in a statement carried by the state TV that the incident came as "terrorists have suffered defeats in many parts of the Syrian territory. Whoever orchestrated this cowardly act sought to harm the largest possible number of people."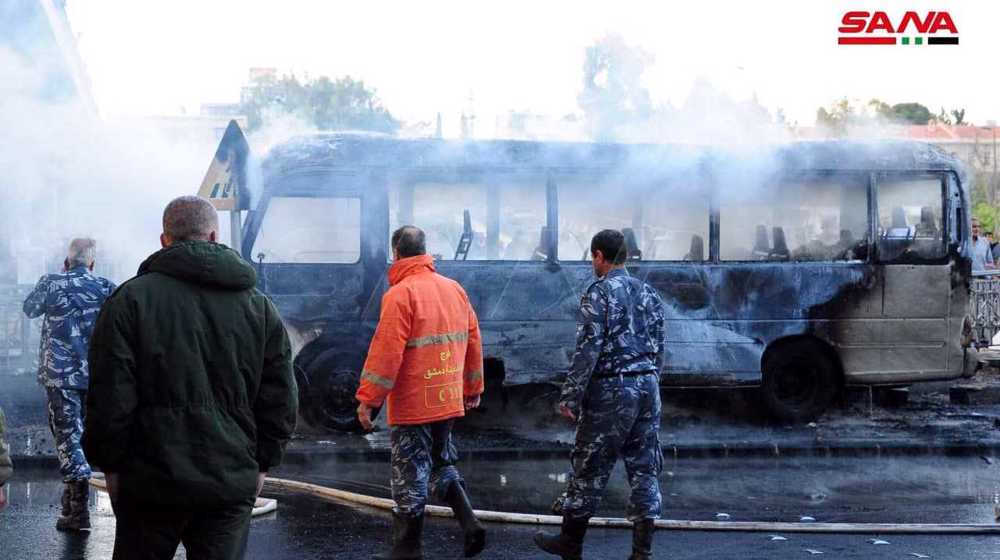 He stressed that "the perpetrators will be pursued and brought to justice. The campaign against terrorism will not be abandoned... and we will pursue the terrorists who committed the heinous crime wherever they might be."
Since 2011, Syria has been gripped by foreign-backed militancy, leading to the emergence of Daesh and other terrorist groups in the Arab country.
The Syrian government has repeatedly condemned the US and the EU for waging economic terrorism on the country through their unilateral sanctions, holding them responsible for the suffering of the Syrian people, especially now that the country is grappling with a deadly coronavirus outbreak.
Damascus has also been critical of the United Nations for keeping silent on the destructive role of the US and EU, among other parties supporting terrorism in Syria.