Police in Chile have fired tear gas and water cannon to disperse thousands of demonstrators who flooded the streets across the country to mark the second anniversary of the protests that led to the re-writing of the constitution.
Authorities deployed at least 5,000 police officers throughout the capital Santiago and other cities as protesters congregated on Monday to renew their calls for social justice.
On Santiago's main La Alameda street, shops and businesses closed hours early and pulled down metal shutters. Security forces also removed traffic lights and rubbish bins from the square to prevent them from getting vandalized.
The 2019 protests left more than 30 people dead and a trail of destruction around Santiago.
They triggered a social shift and led to the formation of a representative assembly to redraft the country's constitution.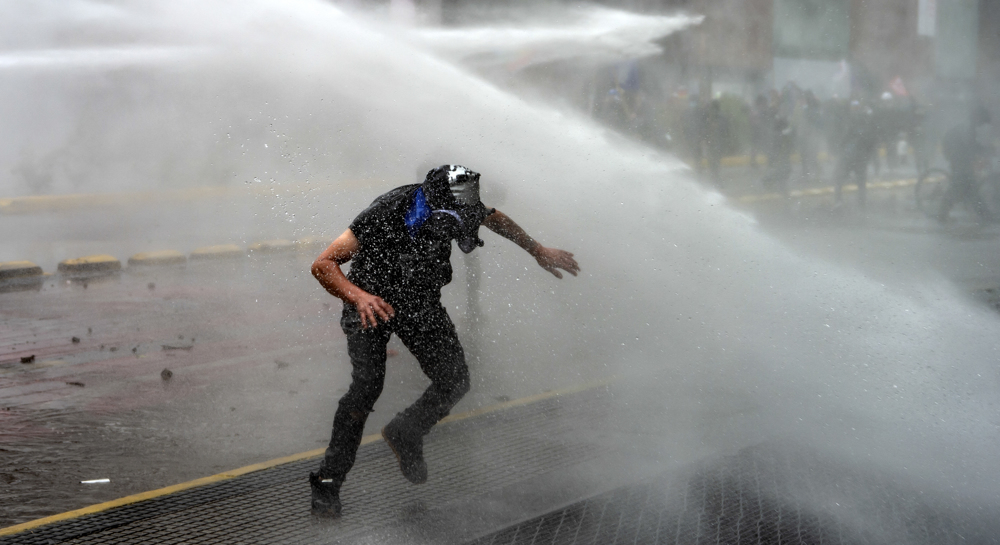 "That social unrest is being channeled into building up our democracy," said Pamela Figueroa, a political scientist at the University of Santiago.
"This is a moment of commemoration regarding the country we must build," she told Reuters on Monday.
Protesters are now demanding universal healthcare, free and improved schooling and higher pensions.
"Things are pending, we need to move forward with a new constitution, that's why people are protesting," a protester said.
In another development, the constituent assembly elected to re-write the constitution began its work on Monday, following a period of 100 days during which it set out its internal rules.
The 155-member assembly is headed by an indigenous woman and dominated by independents not aligned to Chile's main political parties.
"This is a symbolic day, a day that Chile and the citizenry won together," said Elisa Loncon, the assembly head.
"We need to enact deep changes to achieve a new constitution in a democratic manner," she added.
The development came as Chile heads to the polls on November 21 for general elections with a possible second round run-off four weeks later to decide the new president, who will assume office in March.