Foreign Minister Hossein Amir-Abdollahian has reaffirmed Iran's strong support for Lebanon, a sanctions-hit nation battered by an economic crisis, saying the Islamic Republic is ready to play an active role in promoting the Arab country's development projects.
During a trip to Beirut, Amir-Abdollahian held separate meetings with Lebanon's high-ranking officials, including President Michel Aoun and Parliament Speaker Nabih Berri. He is also scheduled to hold talks with Prime Minister Najib Mikati later in the day.
During talks with Aoun, the two sides exchanged views about mutual relations and the latest developments in the region.
Amir-Abdollahian said Iran is ready to play an active role in development plans in Lebanon, particularly in power plant projects, given the country's technical and engineering capabilities,
Aoun, for his part, said the Lebanese people and officials regard Iran as a friendly country and commended the Islamic Republic's unwavering support for his country.
The Lebanese president highlighted the significance of the ongoing negotiations between Iran and Saudi Arabia, saying Beirut is pleased with Tehran's close ties with regional states which would help promote peace in the region.
Iraq has hosted several rounds of direct talks between Iranian and Saudi delegations since April with the aim of reviving relations severed five years ago over a host of issues.
Lebanon's al-Manar television network quoted the Lebanese president as saying that his country supports Iran's efforts to enhance rapprochement among countries in the region, especially relations with Arab states, through dialogue.
"Such dialog can bring the views on the disputed issues closer," Aoun said.
He hailed the measures Iran has taken to help Lebanon overcome the crises it is facing and its assistance after the devastating port explosion that claimed more than 200 lives in Lebanon's capital Beirut last year.
Amir-Abdollahian also reiterated Iran's keenness to stand by Lebanon and conveyed Iranian President Ebrahim Raeisi's greetings to his Lebanese counterpart.
He reiterated Tehran's steadfast support for Lebanon and its readiness to provide Beirut with full support in the areas it requires, especially in the difficult economic conditions it is going through.
The top Iranian diplomat briefed the Lebanese president on his country's position on regional and international developments, ways to improve the ongoing negotiations between Tehran and a number of Arab countries, and the Vienna talks on the revival of a 2015 nuclear deal, officially known as the Joint Comprehensive Plan of Action (JCPOA).
Heading a delegation, Amir-Abdollahian arrived in Beirut on Thursday on a first visit to the country since his appointment, after wrapping up a trip to Russia.
Similar to Iran, Lebanon has been under tough American sanctions, which have been designed to pressure the country over the influence wielded in its political and military sectors by Hezbollah. In the 2000s, the movement fought off two major wars on Lebanon that had been waged by the Israeli regime, Washington's most treasured ally in the region.
The sanctions have taken a huge toll on the Lebanese economy, leading to an acute shortage of staples, including gasoline and diesel.
As the energy crisis escalated, Hezbollah intervened and began importing Iranian fuel to prevent Washington from further interfering with the Lebanese people's livelihoods.
Lebanon's media outlets last month reported entrance into the United States-sanctioned country of a fifth shipment carrying Iranian fuel.
'Iran to be there for Lebanon in difficult times'
Amir-Abdollahian also sat down with Berri for issues of bilateral and regional significance.
At a press conference after the talks with Berri, Amir-Abdollahian said, "There was a mutual agreement about the need to strengthen bilateral ties in various ways."
The Iranian foreign minister said the two sides discussed the important role of the Hezbollah resistance movement in deterring Israeli threats, among other regional issues.
"I would like to assure you that the Islamic Republic of Iran will always stand alongside to Lebanon and assist it in overcoming the various problems it is going through," Amir-Abdollahian said.
Reports say Amir-Abdollahian will also meet with Hezbollah officials, but no time has been scheduled.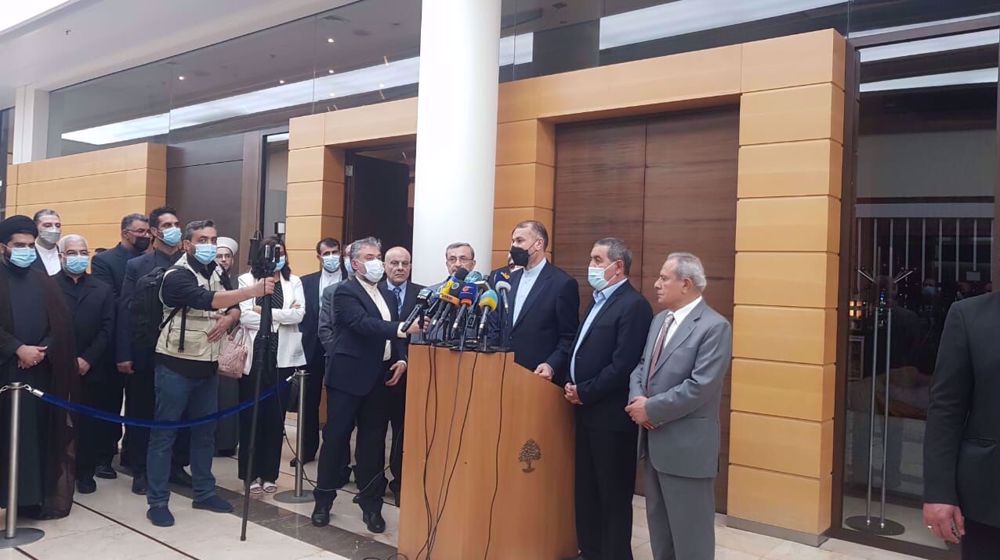 Speaking upon his arrival in Beirut, the Iranian foreign minister hailed "friendly and deep" relations with Lebanon, saying the Islamic Republic will continue to strongly support the Lebanese people, army, and resistance movement.
"The Islamic Republic of Iran will powerfully stand by its allies in the region and we will continue our support for the Lebanese independence, security and sovereignty," Amir-Abdollahian said.
He said they spoke about the importance of Hezbollah's armed forces to deter Israel, and a handful of regional issues.
"I would like to assure you that the Islamic Republic of Iran will always stand alongside to Lebanon and assist it in overcoming the various problems it is going through," Amir-Abdollahian said.