Former US secretary of state Hillary Clinton was repeatedly heckled and booed by protesters as she attended a ceremony in Belfast to officially become Queen's University's first female chancellor.
A number of protesters gathered outside the university on Friday morning as Clinton arrived.
Footage posted on Twitter showed members of the crowd starting to shout as Clinton, dressed in robes, stepped into the roadway toward the university.
One person can be heard screaming "war criminal" at least a dozen times while another individual shouted, "shame on Queen's," before a chant erupted.
British media said the group was anti-war and was protesting US foreign policy.
Clinton was originally appointed as Queen's chancellor in January last year but her installation was postponed because of the COVID-19 pandemic.
She is the university's 11th chancellor and the first woman to serve the largely ceremonial five-year term.
Prior to the ceremony, Clinton said she was happy to be in Northern Ireland and is proud of her "longstanding connection" with the country.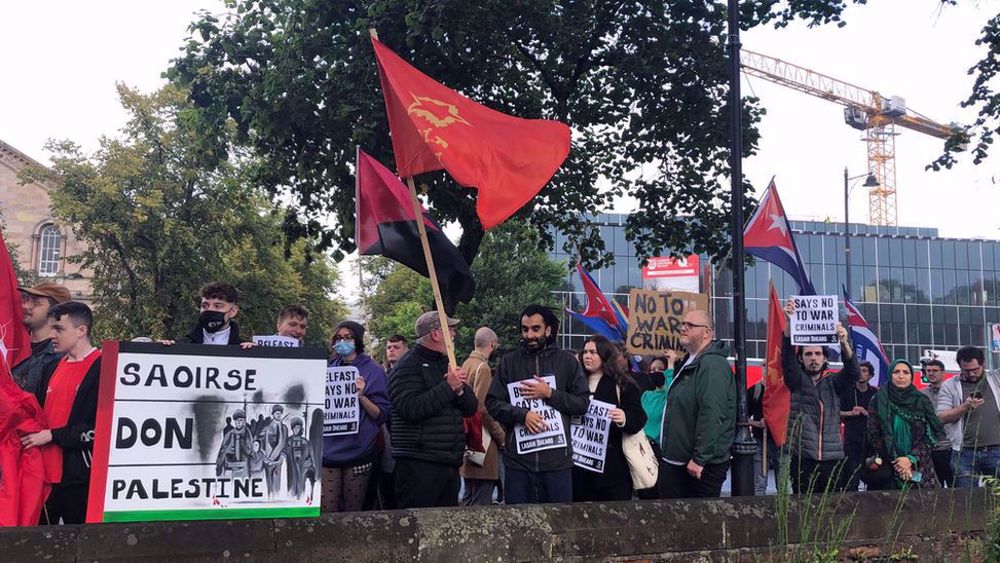 In her acceptance speech, she called on people and politicians in Northern Ireland to resolve their differences over Brexit and deal with the legacy of past violence.
Clinton served as a Democratic senator for New York and as the first lady during her husband Bill Clinton's tenure as US president.
As secretary of state during Barack Obama's presidency, she strongly advocated for US military intervention in Syria and Libya.
But above all, Clinton's political ambitions were frustrated by her vote in favor of the invasion of Iraq in 2003. She lost to Donald Trump in the 2016 presidential election.