Iranian Foreign Minister Hossein Amir-Abdollahian and his Russian counterpart Sergei Lavrov have underlined the need for further development of bilateral collaboration in the international arena, particularly with regard to Afghanistan.
During a telephone conversation on Thursday, the two top diplomats also discussed the resumption of Vienna talks on reviving the 2015 Iran nuclear agreement by bringing the US back to compliance. 
Lavrov told his Iranian counterpart that the negotiations should restart as soon as possible, the Russian foreign ministry said in a statement on Thursday.
"The Iranian side perceived this signal with due seriousness," the Russian Foreign Ministry's statement read.
Iran and the remaining signatories of the Joint Comprehensive Plan of Action (JCPOA) have already held six rounds of talks in Vienna, which began after the Joe Biden administration voiced willingness to rejoin the nuclear agreement, three years after former President Donald Trump unilaterally withdrew the US from the deal and reinstated draconian sanctions on the Islamic Republic.
Negotiators took a break from the talks after Ebrahim Raeisi emerged victorious in Iran's June presidential election, waiting for Iran's democratic transition to take place in order for them to be able to continue the talks, as disagreements remained unresolved on key issues.
The Iranian and Russian foreign ministers also discussed the current situation in Afghanistan, and stressed that Tehran and Moscow have similar views on developments in the war-stricken country.
Amir-Abdollahian and Lavrov called for peaceful dialogue among Afghan political factions, and the formation of an inclusive government as the only way to end the violence in Afghanistan.
They stated that Russia and Iran will support a government which is formed following peaceful talks in Afghanistan.
The Iranian and Russian foreign ministers also held talks on the need for close coordination within the framework of the Astana talks on resolving the Syrian issue.
They discussed the Islamic Republic of Iran's permanent membership in the Shanghai Cooperation Organization (SCO) as well.
Pakistan proposal to host regional summit welcome
Separately, Amir-Abdollahian welcomed a proposal by his Pakistani counterpart Shah Mahmood Qureshi to host a regional summit later this year in Tehran of neighboring countries to discuss the ongoing developments in Afghanistan.
The two sides emphasized the expansion of bilateral relations in political and economic fields.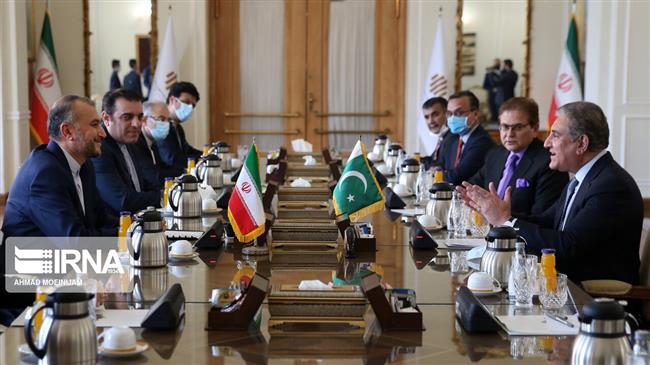 The Iranian and Pakistani foreign ministers also discussed positive steps taken in recent months in order to develop economic relations between the two countries, especially the establishment of two new border crossings, the holding of a joint economic commission and a forthcoming joint trade committee of the two countries.
During a parliamentary discussion on his foreign policy outlook Wednesday, Amir-Abdollahian affirmed that Iran's foreign policy would prioritize relations with neighbors and Asian countries under the new administration led by President Raeisi.