Militants affiliated with the Kurdish-led and so-called Syrian Democratic Forces (SDF) have reportedly stolen a high voltage transformer in Syria's northeastern province of Hasakah as they continue to loot natural resources and public assets in the areas under their control.
Local sources, speaking on condition of anonymity, told Syria's official news agency SANA that a convoy of six US military armored vehicles and three pickup vehicles belonging to US-backed SDF militants entered the town of Tel Hamees on Thursday, and declared a curfew before taking the 20KV transformer away with them.
The development comes as security conditions have been deteriorating in the SDF-controlled areas in Syria's northern and northeastern provinces of Raqqah, Hasakah and Dayr al-Zawr.
Local Syrians complain that the SDF's constant raids have generated a state of frustration and instability, severely affecting their businesses and livelihood.
Residents accuse the US-sponsored militants of stealing crude oil and refusing to spend money on service sectors.
Local councils affiliated with the SDF also stand accused of financial corruption.
Syrians protest Turkish forces' decision to cut off drinking water in Hasakah
Separately, hundreds of people have staged a rally in Hasakah city to protest the Turkish military forces' policy of depriving more than one million people in the province of the same name of drinking water by cutting off the supply to the population.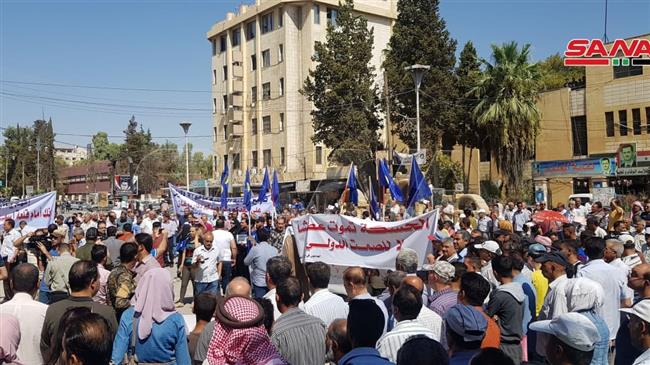 The protesters carried banners in condemnation of inhumane practices of Turkish troops and their Takfiri mercenaries, and slammed the international community's silence over crimes being committed against residents of Hasakah province.
They noted that Turkish forces are perpetrating a war crime in accordance with international conventions by cutting off water to ordinary people.
Syria has frequently condemned Turkey for using water as a weapon of war against ordinary people in Hasakah province, saying such a practice amounts to a "crime against humanity."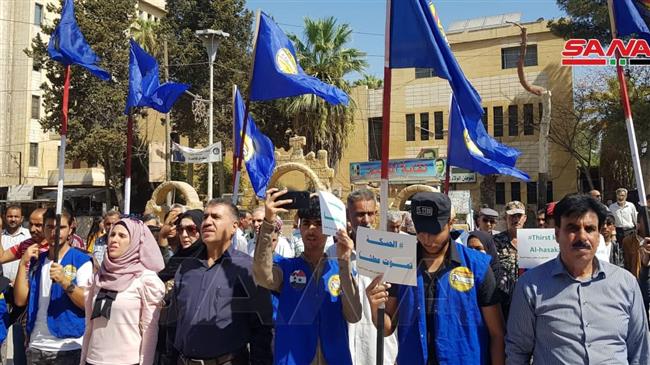 On October 9, 2019, Turkey launched a cross-border invasion of northeastern Syria in an attempt to push Kurdish militants affiliated with the so-called People's Protection Units (YPG) — which Ankara views as a terror outfit — away from its borders.
Two weeks later, Russia and Turkey signed a memorandum of understanding that forced YPG militants to withdraw from the Turkish-controlled "safe zone" in northeastern Syria, after which Ankara and Moscow began joint patrols around the area.
Turkey has since wrested control of several areas in the northern countryside of Hasakah — where the Alouk water station is located — in addition to other Kurdish-controlled areas.
Damascus views the Turkish military presence on Syrian soil as an attack on the Arab country's sovereignty, calling on Ankara to withdraw its forces.