German police have arrested several hundred people who gathered in the capital Berlin, to protest against COVID-19 restrictions enforced following a rise in infections.  
Berlin court officials had banned the Sunday protest gathering earlier in the week due to an increase in the number of COVID-19 cases.
"Despite the ban, people tried to come together anyway …. There were several hundreds, then several thousands," said police spokesperson Thilo Cablitz. Some of the protesters "harassed and attacked" officers and ignored roadblocks, disrupting traffic in parts of Berlin and scuffling with police.
The police spokesman said some 5,000 protesters had turned up for the illegal gathering.

"They tried to break through the police chain and pull out our colleagues. This led to the use of irritants, batons and physical violence," Berlin police tweeted.

Some 600 protesters were arrested in the course of the day in the capital city.
Germany eased many of its coronavirus restrictions in May, including reopening restaurants and bars. Still, people seeking to dine indoors or stay in a hotel must provide proof that they are either fully vaccinated, have recovered from the virus, or have recently tested negative for coronavirus.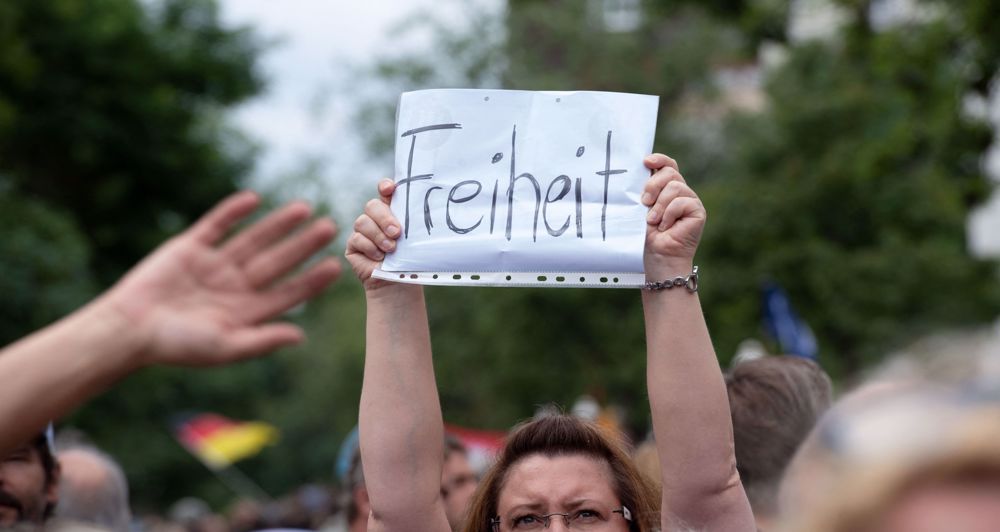 The protesters, who called themselves the "Querdenker" (Lateral Thinkers), held banners reading, "No to the corona dictatorship" and "Freedom." Only a few of them wore masks.
Judges had banned several of the group's planned rallies this weekend, including the one for Sunday which was expected to draw some 22,500 COVID skeptics.
The court said it could not allow the rallies to go ahead over concerns that demonstrators would flout rules on mask-wearing and social distancing, at a time when Germany's infection numbers are on the rise again.
More than 2,000 riot police were deployed in Berlin to confront the protesters ignoring the ban.
The Querdenkers have attracted thousands, at times tens of thousands, of supporters, but their gatherings are often broken up early by police for violating COVID restrictions. Several of the gatherings have led to scuffles. The group has been linked to right-wing extremism.
Meanwhile, coronavirus cases have seen a spike in Germany since early July after more than two months of steady decline.
On Monday, data processed by the Robert Koch Institute (RKI) for infectious diseases showed the number of confirmed coronavirus cases in Germany increased by 847 to 3,772,109.
The reported deaths rose by 1 to 91,660, according to the RKI data.