Intelligence Minister Mahmoud Alavi has reaffirmed Iran's full support for Iraq on all fronts, particularly the neighboring country's security and stability.
The Iranian intelligence chief, who is in Iraq on an official visit, made the remarks in a meeting with Parliament Speaker Mohammed al-Halbusi on Wednesday.
He expressed his condolences over a deadly fire incident that tore through a coronavirus hospital in southern Iraq early this week.
Late on Monday, a fast-spreading blaze hit the new isolation ward at the Imam Hussein Teaching Hospital in the Iraqi city of Nasiriya. The fire continued until early Tuesday, marking the second such tragedy in the Arab country in less than three months.
So far, 124 people have been confirmed dead, according to the Iraqi Civil Defense Center. Iraqi officials also said that more than 100 people were injured in the blaze.
Halbusi, for his part, said it is imperative to help Iraq promote security and stability in the war-ravaged country.
He added that a stable Iraq would have positive impacts on the entire region's stability.
During the meeting, Alavi and Halbusi discussed possible ways to further strengthen cooperation.
Separately, Alavi sat down with Iraq's National Security Adviser Qassem al-Araji for talks on the latest security and political developments in the Arab country.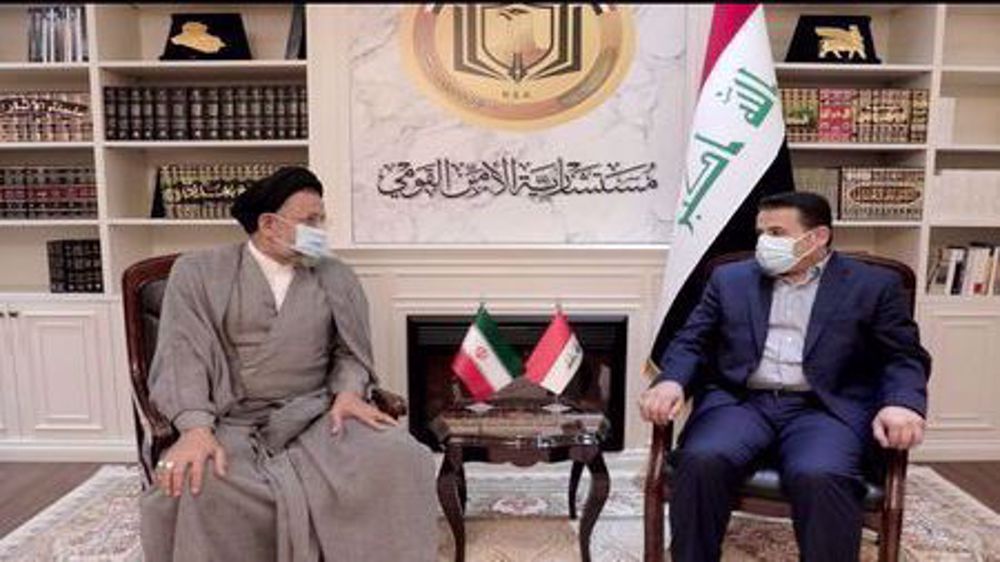 They stressed the importance of broadening bilateral cooperation to advance the interests of the two friendly nations.
In an earlier meeting with Iraqi President Barham Saleh, the intelligence minister underlined "the importance of strong relations between the two countries and their peoples."
He also relayed Ayatollah Khamenei's supportive stance in favor of "reinforcement of the bilateral cooperation and coordination towards confronting terrorism, extremism, and establishment of peace in the region."