Israeli authorities have demolished several Palestinian commercial buildings in the occupied West Bank as well as a water reservoir in Jordan Valley in a few hours' time.
The official Wafa news agency reported on Monday that a total of five structures were demolished in the village of Hares, which is located near the city of Salfit.
Omar Samara, the head of the village council, said Israeli bulldozers brought down four shops and a vegetable market.
Israel justifies the demolition of Palestinian homes by claiming that they lack building permits, despite the fact that Palestinians are not provided with such permits.
Moreover, Israel orders Palestinians to demolish their own homes or pay the demolition cost to the municipality.
Palestinian media also said Israeli forces had demolished a water pond near the village of Bardala in northern Jordan Valley. Moataz Bsharat, an activist, said the 250-cubic-meter pond was used for irrigation and other agricultural purposes. It was a donation from the Palestinian Ministry of Agriculture.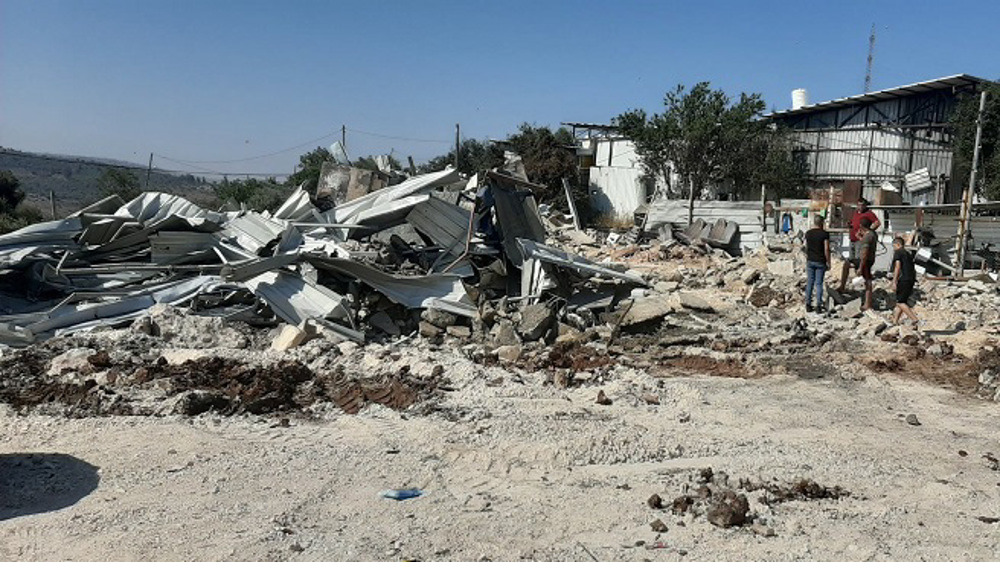 The United Nations Office for the Coordination of Humanitarian Affairs (OCHA) says Israeli authorities either demolish or seize Palestinian property in the occupied West Bank and East Jerusalem al-Quds, a trend which has led to the displacement of a large number of Palestinian inhabitants over the past few weeks.
Many structures have been targeted in Area C, which accounts for more than 60 percent of area in the West Bank, and forms a significant part of a future Palestine state under the so-called two-state solution.
The latest demolition has drawn widespread condemnation against Israel, particularly for exploiting the coronavirus crisis to press ahead with its campaign of razing Palestinian homes.
More than 600,000 Israelis live in over 230 settlements built since the 1967 Israeli occupation of the Palestinian territories of the West Bank and East Jerusalem al-Quds.