A political commentator and journalist says the recent deadly US airstrikes on Iraqi resistance groups on the Iraq-Syria border has sent out a clear message about the hostility of American occupation forces, and that Iraqi anti-terror fighters reserve the right to respond.
"What the Americans are doing is sending a clear message that they are hostile forces. It is giving the right to Iraqi resistance forces to fight back," Elijah Magnier told Press TV in an exclusive interview broadcast on Tuesday.
The Brussels-based analyst went on to say that the attacks on fighters affiliated with the Iraqi Popular Mobilization Units (PMU), better known as Hashd al-Sha'abi, "proves that US forces are combat forces in Iraq, contradicts what Prime Minister Mustafa al-Kadhimi said previously about their [advisory and training] roles and undermines the sovereignty of Iraq."
"It also shows Americans have a different agenda, which is not to leave the country. It reveals that they are committing crimes against Iraqi security forces, who are supposed to protect civilians, train forces and gather intelligence to combat Daesh [Takfiri terrorist group] in Iraq," he pointed out.
Magnier said the Baghdad government had not given US forces the authorization to fly over the area, as it is commonly secured by Iraqi army troops and Hashd al-Sha'abi forces.
"Americans are indeed weakening the Iraqi prime minister because they feel as if they bear no accountability to answer to anyone in Iraq nor the international community.

"They think they can kill four fighters on the [Iraq-Syria] border and get away with it, because no one would come and oppose why they are violating the international law, the sovereignty of Iraq and killing innocent people as well as security forces, particularly in an area where fight against Daesh is highly important and infiltration of terrorists from Iraq into Syria and vice versa must be monitored," he noted.
Magnier stressed that even though the Iraqi parliament has approved a legislation concerning the withdrawal of US forces, Washington is exerting pressure on Iraqi authorities through threats of sanctions, and European countries have stated they would pull out their forces from the Arab country once American occupation forces leave.
"This is a kind of blackmail… They (US troops) will stay in the Middle East and they are not going to leave, because they want to make sure that Russia and China would not fill up such a vacuum," he said.
Funeral held for martyred Iraqi forces
On Tuesday, thousands of people gathered in Al-Jadriya neighborhood of Baghdad to participate in a funeral for those killed in US air raids against Iraqi resistance forces on the border between Iraq and Syria.
Among the participants were prominent political figures and commanders of Iraqi resistance factions, including national security advisor Qasim al-Araji, chairman of the Hashd al-Sha'abi forces Falah al-Fayadh, chief of staff for Hashd al-Sha'abi fighters Abu Fadak al-Mohammadawi in addition to secretary general of the Badr Organization and leader of the Fatah Alliance Hadi al-Amiri.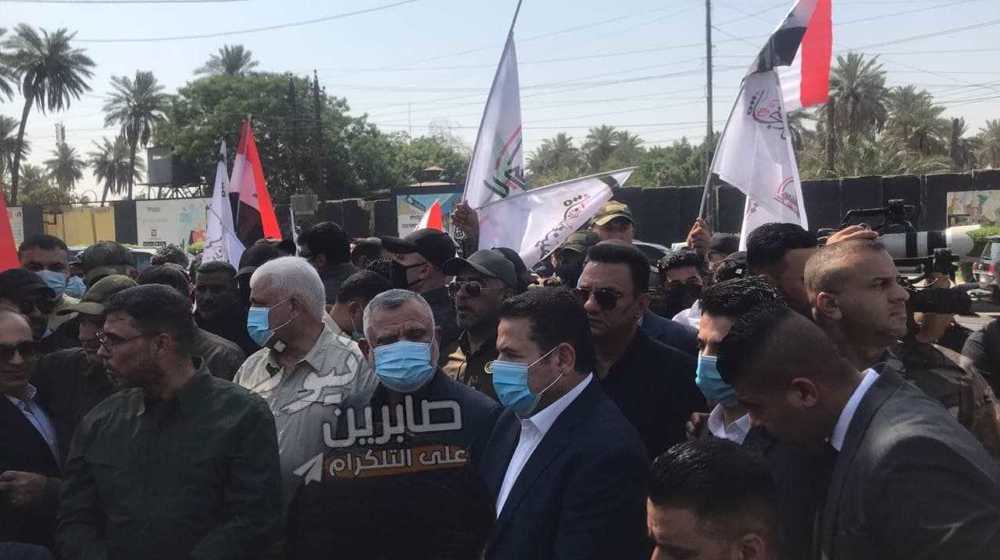 The participants chanted "Death to America" ​​and "Death to Israel" to condemn the fatal US attacks on Hashd al-Sha'abi fighters.
They also called on Iraqi resistance groups to respond "decisively" to the US move.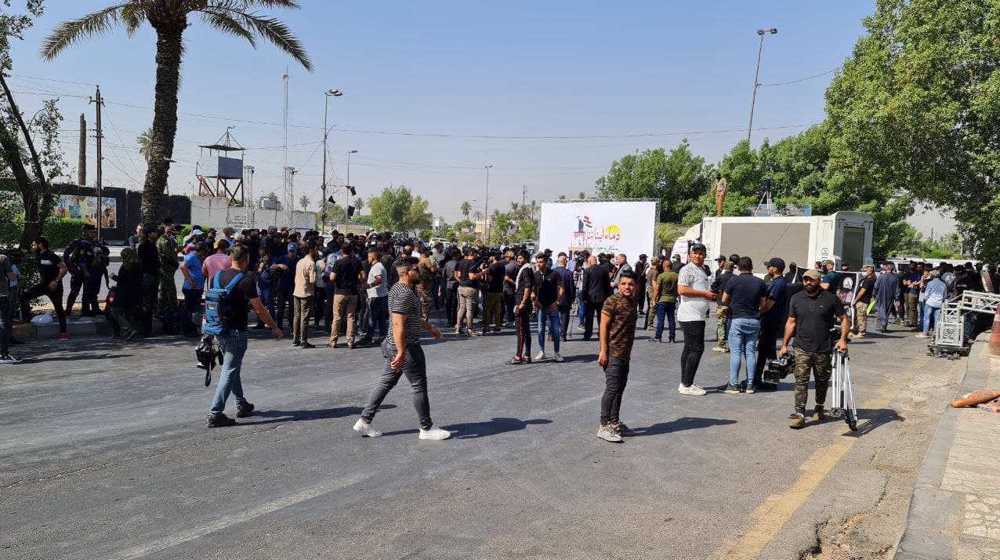 US warplanes attacked three targets purportedly belonging to Iraqi resistance groups along the border between Iraq and Syria in the early hours of Monday.
Sabereen News, a Telegram news channel associated with Hashd al-Sha'abi, reported that four Iraqi fighters had been killed in the attack on the headquarters of the 14th Brigade of the PMU.
Iraqi resistance factions, in a statement issued on Monday, pledged to "avenge the blood of our righteous martyrs and wreak vengeance on the perpetrators of this heinous crime". They also warned the US against repeating its aggression.
Kata'ib Sayyid al-Shuhada Battalions, which operate under the command of Hashd al-Sha'abi, warned of severe retaliation.
"From now on, we will enter an open war with the American occupation. The first of which is targeting its hostile aircraft in the sky over our beloved Iraq," the group said.
The group stressed that the US bases in Iraq are "within the range of our missiles and we would avenge the blood of our martyrs."
Later on Monday, Reuters news agency reported that several rockets had hit an illegal base for American occupation forces in the eastern Syrian province of Dayr al-Zawr. 
The report named the exact whereabouts of the incident as the proximity of Syria's Omar oilfield, which is controlled by the US-backed Syrian Democratic Forces (SDF) militant group.
CNN said some of the missiles from the Monday incident had landed near US troops.
Russian news website Sputnik reported that several American forces and allied militants from the so-called Syrian Democratic Forces were injured in the strike.