By Syed Zafar Mehdi
A short, measured and powerful speech by a Hijab-clad 16-year-old girl in front of the UN nuclear agency chief at an event in Tehran last week has created ripples on social media.
Armita Rezainejad, the daughter of martyred Iranian nuclear scientist Dariush Rezainejad, was speaking at an event hosted by Iran's nuclear organization during Rafael Grossi's two-day visit to Tehran.
Exuding remarkable confidence, composure and poise, the teenage girl spoke in fluent English and grabbed the attention of everyone present, including Grossi, who was seen nodding his head in agreement as Iran's nuclear agency chief Mohammad Eslami dropped a word in his ear.
"I am Armita Rezainejad, daughter of one of the nuclear martyrs," she introduced herself, briefly glancing around to have everyone's attention, while "welcoming" the International Atomic Energy Agency (IAEA) chief as a characteristic gesture of Iranian hospitality.
"We are on the eve of (Iranian) new year," Armita Rezainejad said, adding that she had a "normal life" 11 years before her father was assassinated in a cowardly attack in east Tehran on July 23, 2011.
Dariush Rezainejad was shot five times, in front of his wife and daughter, by motorcycle-borne assailants working for the Israeli spy agency Mossad outside his daughter's kindergarten. His wife was wounded.
He was the fourth Iranian nuclear scientist to be assassinated in a span of four years, starting with Ardeshir Hosseinpour on January 15, 2007, Massoud Alimohammadi on January 12, 2010, and Majid Shahriari on November 29, 2010.
Fereydoun Abbasi, who later went on to head the country's nuclear agency, had a lucky escape in front of the Shahid Beheshti University in north Tehran the same day Shahriari was assassinated.
Rezainejad's assassination was followed by that of Mostafa Ahmadi Roshan on January 11, 2012, which marked the second martyrdom anniversary of his former colleague Alimohammadi. More recently, Mohsen Fakhrizaden was assassinated on November 27, 2020 on the outskirts of Tehran.
The fatal attack on Rezainejad was described by an Israeli intelligence sleuth interviewed by the German newspaper Der Spiegel as "the first public operation by new Mossad chief Tamir Pardo".
His wife, as cited by Mehr News Agency, said she chased the armed assailants and then realized they were shooting at her as well. She eventually fell to the ground and saw the motorcycle speeding away.
"I had a normal life 11 years ago, but six bullets ended that," Armita Rezainejad said, with extraordinary composure. "I was four and a half when my father was assassinated before my eyes."
The tender-aged girl saw the horror unfold before her eyes, her small and beautiful world crashing down as six bullets pierced through her 36-year-old father. But she was too little to understand the magnitude of the tragedy.
"He was a scientist who had nothing to do with violence. And I am not the only one. But that's only a part of the story," Armita Rezainejad, now 16, hastened to add, moving many in the audience to tears.
The young daughter of the slain Iranian nuclear scientist then drew the attention of Grossi and others to the devastating impact of US sanctions on Iranian patients, many of them battling with life-threatening diseases.
"Today, many patients lose their lives for the reason of receiving no medicine," Armita Rezainejad stressed. "Many people are crushed by the bad economic situation caused by the sanctions."
She was echoing Iranian officials and human rights activists who blame the United States and its Western allies for weaponizing sanctions against the Iranian nation, brazenly lying about providing exemptions for life-saving drugs.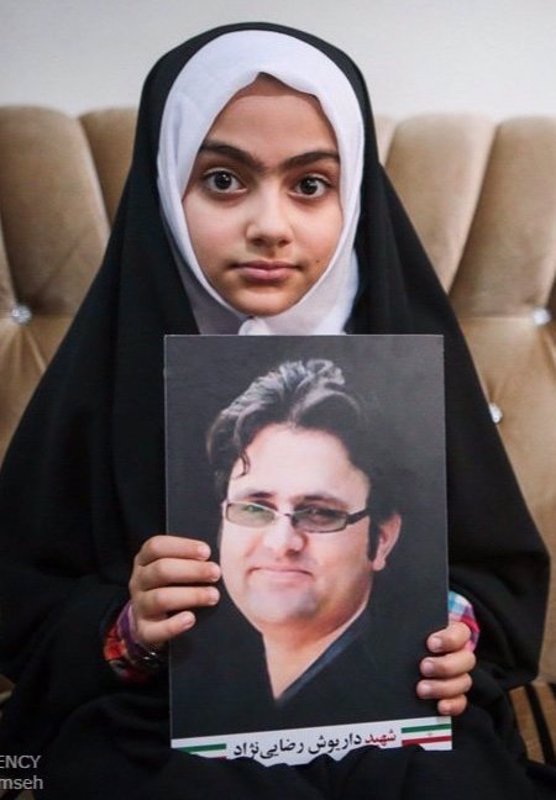 The former US administration headed by Donald Trump re-instated crippling sanctions on Iran after unilaterally abandoning the 2015 nuclear deal in May 2018. Despite vowing to reverse his megalomaniac predecessor's hardnosed measures, Joe Biden has only upped the ante.
Armita Rezainejad's powerful message was directed at the UN nuclear agency chief and the international community, seeking to draw their attention to problems faced by ordinary Iranians due to sanctions, which keep piling up every day.
She also subtly called out the double standards of the IAEA and urged the UN nuclear agency to abandon its political approach toward Iran and highlight the peaceful nature of the country's nuclear program.
"The nation of Iran expects you to help us improve the current state by giving impartial and fair reports about Iran's peaceful nuclear activities," the martyred nuclear scientist's daughter told Grossi.
The UN nuclear agency has been accused of adopting a political and partisan approach to Iran's peaceful nuclear program, despite Tehran extending full and unconditional cooperation to the IAEA and allowing regular inspections. 
On the other hand, Israel has refused to sign the Nuclear Non-proliferation Treaty (NPT), has repeatedly and contemptuously turned down calls to join the keystone accord of the international arms control regime and does not allow the UN nuclear agency to inspect or monitor its nuclear sites.
The apartheid regime has also over the years carried out a series of sabotage attacks at Iran's IAEA-monitored nuclear sites and assassinated the country's top nuclear scientists, including Armita Rezainejad's father.
A movie on the life and legacy of Dariush Rezainejad, which was premiered last year, provides a sneak peek into how Iranian nuclear scientists have been targeted by the Israeli regime under Western patronage over the years. 
"An opportunity has been provided so that people across the world know the sufferings of the Iranian nation in the past decades and understand that Iranians are among the biggest victims of crimes against humanity," Armita Rezainejad said in a letter to European diplomats after the film's release in July last year.
Her speech last week was a reminder to the international community that Iran is a victim of terrorism -- the terrorism of sanctions.

Syed Zafar Mehdi is a Tehran-based journalist, political commentator and author. He has reported for more than 13 years from India, Afghanistan, Kashmir and West Asia for leading publications worldwide.
(The views expressed in this piece do not necessarily reflect those of Press TV.)