As battles rage on between the Yemeni army, supported by allied Popular Committees, and militants affiliated with the Saudi-led coalition against Yemen, veteran Yemeni General Abu Ali al-Hakim takes command in the provinces of Ma'rib and al-Bayda, turning the tide against the Saudi coalition.
Abu Ali al-Hakim, the head of a security apparatus in Yemen, was named as the commander of the third military zone in the provinces of Ma'rib and al-Bayda a few days ago.
His appointment has sparked fears among the Takfiri terrorists and Saudi-backed mercenaries, prompting them to engage in weird propaganda.
Since February, the Yemeni forces have been pushing to liberate Ma'rib, the last northern stronghold of Saudi-backed militants and the capital of an oil-rich region. The Yemeni forces also launched a new operation, dubbed al-Nasr al-Mobin, to push members of al-Qaeda and Daesh out of their strongholds in al-Bayda last month.
It is worth noting that al-Hakim is a veteran, experienced general whose presence in different areas has resulted in major developments.
Despite his prominence, al-Hakim is a humble and friendly person. Those characteristics have not only earned him fame among the people of Yemen, but also made him popular and gained him credibility among the tribal chiefs, who trust him due to his nobility and as he is known for keeping his promises.
Some sources said that General al-Hakim, who had recently arrived in al-Bayda and visited several battlefronts in the province, had also met with tribal leaders in Shabwah Province during the past days. The talks were described as a good sign, considering al-Hakim's personality and experience.
According to those sources, Saudi-backed militants, who have exerted pressure on the tribal chiefs in Shabwah over the past two years and turned them into their enemies, are scared of the latest developments and are confident that they would adversely impact them, and they would subsequently be forced to flee Shabwah as they did in Ma'rib.
The Saudi-backed militants' concerns are apparently not baseless. In the photo seen below, which was taken on the heights that overlook Beihan district in Shabwah a few days ago, a Yemeni general shows the conflict zones and strategic areas to al-Hakim, who came up with ideas for a new operation in al-Abdiyah District in Ma'rib and Ain District in Shabwah.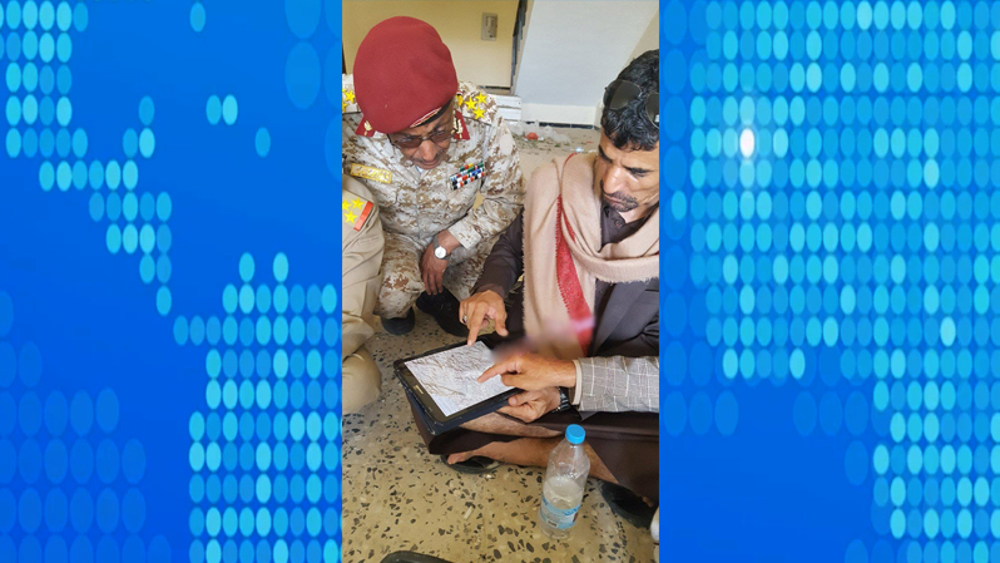 Saudi Arabia, backed by the US and regional allies, launched the devastating war on Yemen in March 2015 with the goal of suppressing a popular uprising that had toppled a Riyadh-friendly regime.
Yemeni armed forces and allied Popular Committees have been defending the country since, and, over six years into the invasion, the Saudi-led forces remain bogged down in what has become Saudi Arabia's Vietnam War.
The Saudi war has left hundreds of thousands of Yemenis dead, and displaced millions more. The war has also destroyed Yemen's infrastructure and spread famine and infectious diseases across the Arab country.